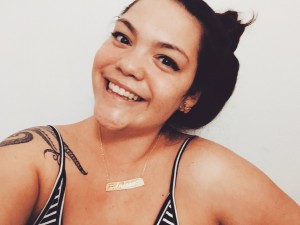 My name is Anissa LeeHang and I was diagnosed with lupus a week before my 11th birthday in 2007. I used to refer to my disease as a curse, however I now look at is as a blessing. My life was completely altered when I received my diagnosis, especially being that I was so young at the time. I always think back to my life before lupus and think how important the beach and going out every weekend was to me. Once I was diagnosed, that all changed because I was no longer able to go out in the sun for hours and my life seemed to revolve around medication. I'd wake up with joint pains, migraines, and just feeling "blah".
I've been blessed to have amazing doctors that constantly remind me of how strong I am for handling my diagnosis. After receiving it, I immediately hit the internet with all force. I wanted to know what I was in for and how I could take better care of myself. I remember doing research and creating questions for the doctor. Dr. Kurahara always made it a point to explain to me in the most comprehensible ways, what was happening to my body. By being informed and understanding, I was able to take control of the situation that my body wasn't able to.
I've been living with lupus for about 8 years now, and every day I wake up thankful. I've recently come to the realization that I was given this disease, not to hinder me, but to strengthen me. I was given lupus because God knew I was strong enough to overcome it and use it to my advantage. Ever since I was a little girl, I've been interested in the medical field and have had dreams of one day becoming a doctor. I was told by many wise individuals, that the best way to help others, is by understanding their situation for yourself. Currently, I'm going to school to pursue a career as a rheumatologist. I want to help other lupus patients, on levels that no other doctor could reach, because I truly understand what they're going through.
There are daily struggles through having lupus, and the bills never really seem to stop piling up. However, I'm grateful to have this disease because without it, I wouldn't have had the opportunity to meet such amazing people along my journey. Most importantly, I wouldn't have been able to become the person I am today without it. My goal is to suffer now, and have someone hear my story and me be the reason they have the strength to never give up. Life is hard at times, but the one thing to remember is that it can't last forever.