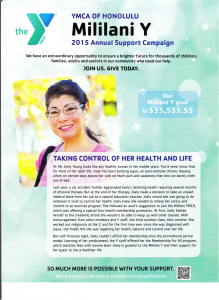 Joely was a special education teacher living with lupus. She had decided to decrease her stress level and stop teaching. She has since been working hard on getting herself strong and healthy as well as helping to raise awareness about lupus in Hawaii. She emailed me recently to share an update about how she has been doing and she is happy to share with everyone to help others get healthy!
Joely's road to getting healthier and making changes in her life are described below in her email to me…………
"You were the first to make me start to think about getting my lupus under control and taking charge of my life, primarily through exercise. I remember first reading your article in the newspaper, I cut it out and left it on my desk at school. Then, months later, a friend who works at Queens Medical Center sent me your email about one of your seminars with Dr. Kawamoto."
"I've been meeting more people who are affected by lupus and have been blessed to share my story. I am so thankful that the Lord has graced me with this time to really focus on my health, something I've never done before. I never thought I could feel strong (I actually have a little bit of muscle on my arms – lol) or say that I want to exercise. Of course, not working and having that kind of stress sure makes a difference. I still have some flare ups, but it doesn't last as long and is not as difficult like in the past. I still have a long journey ahead of me, but for the first time am committed to exercise which I know has been key to my progress. I am determined not to let the lupus beat me down."
"I was blessed to have been part of the YMCA annual support campaign this year and participated in a video that was being shown on tv. The Mililani Y did a write up about my story and I was a little shy to be their "poster child", but I hope I was able to encourage others somehow. Meeting new people and friends at the Mililani YMCA has been a blessing and a small ministry for me. The members and staff have been such an encouragement and support for me – I am so appreciative of them!"
Joely is a great inspiration for all of us! She has been successful in making changes and is feeling much better.
We wish Joely continued success with her health, strength and happiness as she moves forward in her life living with Lupus!
Please remember everyone's body is different and unique. Always discuss any concerns you might have about living with an autoimmune disease with your doctor.
Please visit the Lupus Foundation of America for great information at www.lupus.org.