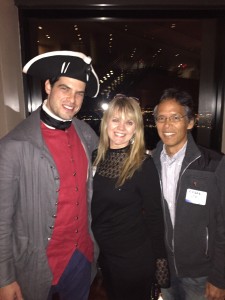 My journey started in October 2011 when I was having difficulty wearing contact lenses. Over a period of nearly 2 years and numerous appointments with a variety of eye doctors, I thought that perhaps my allergist might have some insight on why my eyes were so terribly dry and painful. And that's when she dropped the bomb, I had Sjögren's syndrome.
When I was diagnosed with Sjögren's in July 2013, my first thought was, What??? Sjögren's??? What the heck is Sjögren's'? Then, there was the denial. The blood test results are wrong. So, I went full force into the internet, doing my own research, seeing other doctors to run more tests. This can't be happening to ME!
Yes, it's true. I have Sjögren's syndrome. This is an invisible disease. Walking down the street, working in the office, or attending a dinner function, no one can SEE the disease. People wonder why I blink so much. When I tell someone, I have Sjögren's they have no idea what I am talking about. It is not imaginary. It involves fatigue, pain, dryness….and the list can go on. My family and friends don't understand; they think I am fine because I look fine.
At first, I was letting the disease control me. I was depressed — didn't want to socialize with my friends and family and didn't want to go to work. No one (including my family) understood what was happening.
Eventually, after much research and talking with others affected, I started to take back my life and not let this control me.
I have Sjögren's and I understand now what the flares are and have started to figure out what causes them and how to control them.
Today, I control my symptoms with a whole foods, plant-based diet and limit my consumption of alcohol (which turns out is a huge culprit to my dry eye). I only take Restasis twice a day for my dry eyes. I have lost 18 pounds and learned to pace myself and avoid too much stress. I am thankful that all my blood tests are in the 'normal' range.
I have also discovered that there is no cure, but there are treatments and diet lifestyle changes that can greatly improve the symptoms and ultimately give me a better quality of life. I continue to research and look for new, innovative ways to deal with the dry eyes and this disease. I am proud and blessed to be on the advisory council of the Sjögren's and Lupus Foundation of Hawaii. I look forward to helping others on their journey. Even though there are days where it is hard to remain positive when feeling lousy, it is my new life passion to help others to live life with Sjögren's and not let it define you.