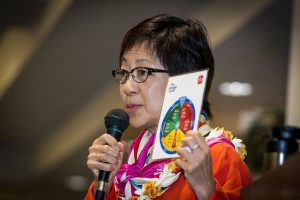 Alison Zecha is the Leadership Development Manager with Hawai'i Pacific Health. She supports clinical and non-clinical leaders and their teams through executive coaching, leadership development programs and facilitating change.
In 2002, Alison founded Alison Zecha, Inc. Coach AZ, to offer executive coaching services, leadership development consulting, and creative team building in her work with corporate C-suite executives, high-potential mid-level leaders, and management teams to achieve organizational success and personal effectiveness through one-to-one and team coaching.
Alison brings 30+ years of leadership and business experience and a culturally diverse, international background. She is a certified facilitator and trainer of numerous leadership programs and assessments, including The Change Cycle™, and much of her work is based on Emotional Intelligence.
Previously, Alison was the Director of Organizational Development at Hawaiian Electric Company, Inc. and hosted The Electric Kitchen for ten years.
She was able to share The Change Cycle™ at the Sjögren's and Lupus Health and Wellness Conference which helps her to navigate life with her son, a fifth grader, their 12 year-old Golden retriever (who thinks he's still three) and Sjögren's Syndrome.
Alison is a wonderful addition to the foundation!