Yield: 8 servings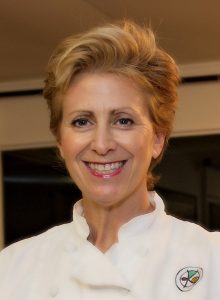 | | | |
| --- | --- | --- |
| 2 | Tablespoons | Pure Olive Oil |
| 1 | Large | Onion, large dice |
| 2 | Medium | Carrots, large dice |
| 3 | Stalks | Celery, large dice |
| 1 | Small | Fennel or Anise, small dice |
| 2 | Cups | Organic Vegetable Broth, low sodium |
| 1 | 14 oz. can | Organic Pinto Beans |
| 1 | 14 oz. can | Organic Black Beans |
| 1 | 14 oz. can | Organic Kidney Beans |
| ¾ | Pound | Organic Ground Turkey |
| 1 | Packaged | Organic Turkey Sausage– Whole Foods preferably |
| As needed | | Low Sodium Kosher Salt, 270 mg |
| As needed | | Ground Black Pepper |
| 2 | Tablespoons | Ground Coriander |
| 2 | Tablespoons | Ground Cumin |
| 1 – 2 | Tablespoons | Chili Powder |
| ¼ | Cup | Chunky Peanut Butter |
In a medium pot, add olive oil over medium to high heat. Add the onions and turn to low. Cover and let onions sweat for 10 minutes.
Add carrots, celery and anise to pot, cover and let sweet for another 10 – 15 minutes.
Add vegetable broth and all three beans with their juices. Let chili simmer uncovered for 15 minutes.
Meanwhile, in a small frying pan, cook ground turkey till it is not pink anymore. Use a fork to break up the turkey into small pieces. Continue to do this with the fork till done, maybe 4 – 5 minutes. Remove ground turkey and cut up kielbasa into a medium dice and brown over medium heat. Remove and set aside.
Add the ground turkey and the kielbasa and all the seasonings. Adjust flavor with seasonings to your liking. You can add more Chili powder and even hot sauce if you like it hotter. Cook over low heat for another 10 minutes or so and add peanut butter, readjust seasonings..use your judgment.
Serve with organic Sour cream, shredded Cheese and raw, red onions.
Enjoy!