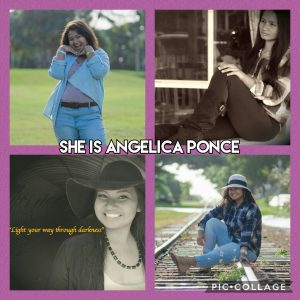 I, Angelica Ponce have been a lupus warrior since December 16, 2014. At that time, I was a senior in high school excitedly waiting to graduate. When I found out that I had lupus, I was prepared to accept the truth that I will have to live with lupus for the rest of my life. However, I was not prepared to go through the process of living with lupus.
As time passed, I slowly allowed myself to go through the process of a lupus fighter: taking medications, attending doctor appointments and self-caring for myself. Although, I have been a lupus warrior for almost two years, there are days when I get tired of just going through the motions. If I did not have all the love and support from my family and friends, I would not be who I am today: a stronger fighter, a stronger conqueror and a stronger angel. With God by my side, I know and believe "I can do all things through Christ who strengthens me" (Philippians 4:13).
At this point in my life, I have learned to hold lupus as a lightened candle, no longer a darkness monster. As a former Make-A-Wish kid, I was able to experience so much hope, joy and happiness through the power of my wish being granted. My wish was to visit my dream college, Concordia University in Portland, Oregon. After the experience of having a wish being granted, I have been given opportunities to share my story as a lupus warrior amongst elementary, middle and high school students. On the last day of high school, I was blessed to share my spoken word entitled Diagnosis amongst my fellow high school classmates. Along with this spoken word, I had dancers from a creative dance class interpret my words through dance moves. Through these opportunities, I learned not to let lupus define me. Instead I have learned to let lupus shine its light.
As a young adult, I have learned to go for the desserts rather than be stressed. Besides, stressed backwards is desserts. Sometimes, we cannot just look at life from left to right. We have to also look at life from right to left. In doing so, we seek beyond the unseen. I found my passion in doing free-verse poetry. I have learned to accept the simplicity life has to offer through drawing sunsets and sunrises. I encourage you to continuously always have an open H.E.A.R.T- Hope.Everything. Aligns. Realistically. in Truth. No matter the battle we are fighting, we are not alone, we have a whole army of people fighting for us. However, if we are not fighting for ourselves, we could possibly lose our army. So let's keep fighting the good fight. Never give up and light your way through darkness.
She Is
If you only knew her battle she is fighting.
If you only knew the feelings and emotions she's having.
If you only knew how many times she's been crying.
If you only knew how much pain and hurt she's feeling.
If you only knew to seek beyond what is unseen.
Yet look at her now,
Don't you see that beautiful smile on her face?
Don't you see
the love, the peace, the joy, and the happiness in her?
She never forgets where she came from
For her roots and her culture make up who she is today:
A Fighter,
A Conqueror,
An Angel
And
a Storytelling Lion
She is Angelica Ponce.
Please remember everyone's body is different and unique. Always discuss any areas of concern about your autoimmune disease with your doctor.