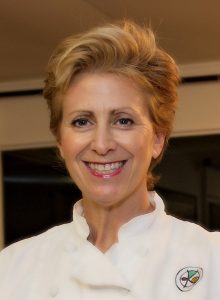 Nutrition and diet are key factors in living healthy and taking care of ourselves.
This is one area in my life that has been hard for me to adjust and I try my best to eat healthier everyday. Being on the go with my busy life and trying to eat right can be difficult. Yikes! I need to work harder to balance this part of my life….
Any guidance and help I can get I happily accept. Trying to figure out what food to buy, how to prepare it and whether or not it's good for my body can be overwhelming at times. There are so many choices and many decisions to make.
Kathi and I connected a few years ago. Both of us are living with Sjögrens syndrome. She has been a chef for many years and has a wealth of knowledge that she'd love to share with others. She attended the conference in April and I had the opportunity to sit and talk to her. I asked if she would like to help educate and write a blog about eating healthy and she was happy to help out.
I'm excited to share Kathi's background and her life living with Sjögrens syndrome! She will be writing a blog monthly about how to shop for foods, what types of meals that we can prepare as well as suggestions and tips to eat healthier.
Kathi has been living with Sjögrens syndrome for over 23 years and how she lives and what she eats is by design and choice. She first graduated from Syracuse University Cum Laude in 1980 then moved on to the California Culinary Academy in 2002. She is currently the President of Les Dames d'Escoffier International Hawaii Chapter which is an international organization of women all in the food, fine-beverage and hospitality industry. Their mission is education and philanthropy. Almost all their events and programs are open to the public. They also look to partner with organizations they can help serve. The local chapter has event notification, a blog and much more information. For more information you can visit www.ldeihawaii.org.
She is a semi – retired chef living in Hawaii for the last 9+ years and was a textile designer when she was first diagnosed. She believes that choices are sometime made daily out of necessity to live as close to a normal and healthy life as possible.
Being a chef, studying nutrition and working with people who want to eat healthy and lose weight has been helpful to her. As she has struggled with her own health issues, it has helped take her down a path of understanding. She has learned how to cook healthy meals and now understands that what is in our food plays a very big issue in maintaining our health.
In the coming months, she hopes to give you insight into the benefits of what a "healthy" diet looks like and how you can best shop for items at local stores to keep your budget in check without compromising on the freshness and quality of the products you buy. She will also give you a list of what is a good item to cook when you don't have much time and the meal to make when you do have a few hours. Kathi hopes to give you the skills to make good choices for you and your family so you remain as healthy as you can and your family actually feels that they are eating better quality meals which taste great! And hey….maybe they might get into the cooking action too.
For now, Kathi wants to leave you with this question….If you spend time going to doctors, taking vitamins and drugs, exercising to help you with the symptoms of Sjögrens and/or Lupus, wouldn't it just make common sense to aid your body with this fight by providing it with healthy, chemically free foods which put a smile on your face as well? I hope you are well and well fed – Chef Kathi Alice Saks